ON THE SEA SHORE - SCENE FROM THE SCRIPT
EXT, JABKENICE – POND, EVENING
The leaves on the trees are turning yellow. The tone of the
scene is similar to Jakub Schikaneder's painting "Autumn
Dawn". The art of this painter will set the visual tone of
the entire film.
TITLE: 1883
Darkness falling. The place is calm. Park with a pond.
BEDŘICH SMETANA (59) stands close by the pond. He has a grey beard, vacant expression, mad eyes. There are pieces of cotton doused in brown ointment stuffed in his ears, the ointment runs down his neck. The wind blows between the trees and Smetana hums a few bars of a composition: 
B. SMETANA – MY HOMELAND (Symphonic poem, part VI, Blaník)
Smetana's eyes are closed, then he opens them, lifts his
arms and begins to conduct an invisible orchestra between
the trees. The music continues until the final beat.
Smetana leaves and sees the composers LISZT, BERLIOZ and
MENDELSSOHN approaching him from the woods, applauding him.
                    LISZT
          I bring you special guests, my
          friend. Friedrich, you know Robert
          Schuman, but today I bring two
          other special guests, Berlioz and
          Mendelssohn.
Smetana bows before Berlioz and Mendelssohn, greets them,
even though he stands all alone between the trees.
                    BERLIOZ, MENDELSSOHN (O.S.)
          Now we know why Bohemia has always
          been called the conservatoire of
          Europe!
                    SMETANA
          Gentlemen, let me invite you for
          some tea, I live nearby, with my
          daughter, if you please…
Smetana makes way first. A high and shrill note pierces his
ears. In pain, Smetana covers his ears.
EXT, JABKENICE – IN FRONT OF THE LODGE, EVENING
Smetana approached a lodge, a large house with a sun-dial,
surrounded by a wooden fence.
The high E he had been hearing stops.
Smetana gestures towards his daughter's door. A light shines
inside. Smetana beckons to his invisible guests.
                    SMETANA
          Gentlemen, please. Allow me.
He bows and reaches for the door knob.
INT, LODGE – SMETANA'S ROOM, EVENING
Smetana walks into his lit room, towards his table.
Suddenly, he focuses entirely on his composition in
progress.
Sheets of music are scribbled over, scored through, blotted
with ink. Sheets are scattered on the piano, on the floor,
the messy double bed.
Smetana sits at the table, props up his head, scribbles and
writes over the score. His eyes are vacant.
Smetana rises, strides across the room and around the piano,
he moves his hand with his pen as if he is conducting a
silent invisible orchestra. He mumbles along. He can hear
the orchestra in full swing.
B. SMETANA – VIOLA (THE SHIPWRECK)
ŽOFIE (30), his daughter, appears in the open door, a shawl
around her shoulders. She looks at Smetana with pity.
Smetana hasn't seen her arrive, he continues to stride back
and forth across the room, stepping on the sheets of music
as he does so. Music can be heard – cacophonic, overlapping
but beautiful.
Žofie steps away from the door and touches her father's arm.
The music stops immediately.
Smetana starts and turns to her, he tries to pull away but
Žofie doesn't let go. It's as if she's taming a horse.
Smetana looks into her face. Absolute silence. He can't hear
the music, nor Žofie's footsteps, nor the sounds of the
house. Nothing.
2. 
(CONTINUED) 
CONTINUED: 3. 
Focus on Žofie, neither Smetana nor the audience can hear
her.
Smetana breathes heavily but he finally stops fighting his
daughter and even lets her place her hand upon his cheek.
Žofie smiles, touched, she leads her father firmly towards
the bed. She clears away the sheets of music and scribbles
papers.
                    ŽOFIE
          Tomorrow is another day.
                    SMETANA
          I'm sorry, I'm sorry.
Smetana lies, docile. Žofie tucks him in, patiently.
Žofie picks up the sheets of music and places them upon the
piano. She runs her fingers across the notes. She looks at
Smetana, who is asleep. She sits beside him, sees his eyes
half-closed, breathing. She takes out a piece of cotton from
his ear, leans down and whispers.
ŽOFIE 
Father? 
Smetana doesn't even stir. Žofie hears a creak and turns to
the door, seeing her husband JOSEF SCHWARTZ (38), a robust
handsome man, a forester. He motions for her to come with
hm. Žofie turns to her father for one last time, tucks him
in and smooths his grey shaggy hair.
Then she douses the lamp.
INT, LODGE – SMETANA'S ROOM, NIGHT
Smetana sleeps fitfully.
                    FROJDA
               (softly)
          Friedrich…
Smetana opens his eyes and sees the prostitute standing at
the foot of his bed. Her smiling mouth is painted red, in
the darkness behind her are shadows of other prostitutes,
moving back and forth in a seductive dance.
J. OFFENBACH – ORPHEUS IN THE UNDERWORLD
Smetana tries to rise but the prostitute crawls over him,
lifting her skirts. Smetana looks horrified. The music
intensifies.
(CONTINUED) 
CONTINUED: 4. 
The prostitute straddles him. Her face is white. Her dark hair falls heavily over her shoulders. Smetana looks around and sees his wife KATEŘINA sitting on the piano stool, looking on, reproach in her eyes. He seizes the prostitute by the waist and tries to push her off. 
SMETANA 
No, no… 
Kateřina looks on, shaking her head sadly. The prostitute starts laughing. The women in the background spin. Smetana blubbers and shouts. The music intesifies and then breaks into a cacaphony. 
EXT, JABKENICE, NIGHT
Dark countryside, lit windows of the lodge.
Smetana screaming.
INT, LODGE – ŽOFIE'S BEDROOM, NIGHT
Žofie and Josef wake when they hear Smetana screaming. Josef
groans and turns to the wall, Žofie kicks off the blanket
and gets up.
INT, LODGE – SMETANA'S ROOM, NIGHT
Smetana tosses and turns in bed and screams, his eyes
tightly shut. Žofie rushes in, quickly puts the lamp on the
table and places her hands on his shoulders.
No! No! 
Father! 
SMETANA 
ŽOFIE 
Smetana still convulses. Žofie realizes he cannot hear her,
so she starts to shake him harder.
                    ŽOFIE
          It's alright! It's alright!
Smetana suddenly opens his eyes and looks into her face.
Again, there is silence. We can see Žofie's lips moving,
speaking urgently but we can't hear what she's saying.
She slowly lets Smetana go when she sees he has calmed down.
(CONTINUED) 
CONTINUED: 
5. 
                    SMETANA
          She has come for
me…Kateřina…she has come for me… 
                    ŽOFIE
          What are you saying?
Smetana looks around in terror. He tries to rise, as if
trying to find a visitor in the room. Žofie pushes him back
into the pillow.
                    SMETANA
          She's here…she's here…
                    ŽOFIE
          No one's here.
Žofie places her hand on his cheek, speaks urgently, so that
her father can read her lips.
                    ŽOFIE
          No one's here.
Smetana lies down but still stirs.
                    ŽOFIE
          I'm here with you. Don't be afraid.
Smetana closes his eyes in exhaustion. Žofie strokes his
beard and cheek, she's trying to calm herself down, too.
Smetana is asleep, one hand hanging off the bed. Žofie
listens to the sound of his breathing and the wind outside.
Then she suddenly hears a creak and turns around in fear,
takes the lamp but doesn't see anything or anyone. She rises
of the bed and follows the sounds.
The light of the lamp shines on Kateřina's portrait on the wall. Kateřina is a gaunt woman with large eyes that have dark circles under them. They look even more frightening with the light of the lamp upon them. 
Žofie is afraid. She stares motionlessly into her mother's
eyes and her mother stares back at her from the portrait.
The women look very similar.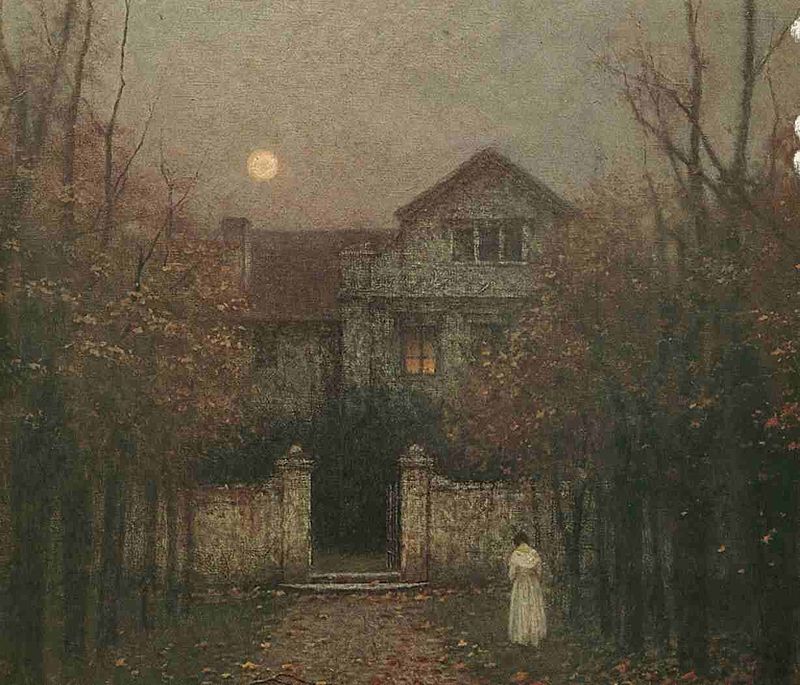 happy celluloid production
Happy Celluloid is a film and TV production company founded in 1993. In the audiovisual market it acts an independent producer of feature film and television series spanning many genres, producing fourteen features, five series and fortyeight episodes. It brings together film professionals and serves as an active partner of the Czech Film Fund and all Czech television broadcasters.